COMMERCIAL DESIGNERS:
Contact us today to request samples of our Flat Dichroic products. Samples include flat dichroic laminations on a number of high quality substrates.
ORDER NOW
Flat Dichroic Laminations
Our Dichrolam lines are custom made fabrications that bring out the best optical qualities possible from dichroic film materials.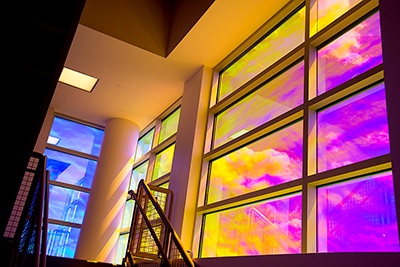 Our Flat Dichroic products are available in two dichroic "colors": red and green.
Dichroic films are unique in their ability to both reflect and pass light throughout all ranges of the color spectrum. The Red and Green film "colors" are named for their reflective color at right angled viewing; while there transmitted colors are opposite, complementary hues with full spectrum color shifts.
Our products are unique in the industry because the dichroic layer becomes mirror flat, unlike the "hammered" orange peel effect of EVA laminations. We are also the only manufacturer to offer a commercial warranty, and to use a two stage proprietary edge sealing process to allow exposed edges in exterior applications.
HOW DICHROIC LAMINATIONS WORK
For architectural glazing, we usually laminate the dichroic layer between two layers of SGCC certified glass. Commonly laminating layers like: 1/8", 3/16", 1/4" or 3/8" glass (Temp or Annealed) + .060 Dichrolam + 1/8", 3/16", 1/4" or 3/8" glass (Temp or Annealed).
Satin acid etch glass is often specified for its ability to soften and spread the colors. When laminated these glass panels become CPSC 16 CFR 1201 Category II Safety Glass according to American National Standards Inc Z97.1975.
Many specs require Insulated Glass Units, so we work with a local IGU fabricator to make panels in common IGU makeups like 1/4" FT + 3/8" air / argon space + 7/16" HS laminated Dichrolam.
All edging options are available like Flat Polish, and annealed panels can be waterjet into detailed shapes. Fin applications are usually Fully Tempered with holes and we utilize three separate proprietary edge sealing steps to eliminate edge delamination for exterior applications.
For interior, lower cost and exotic product applications where weight is an issue like public art and lighting fixtures, we laminate the dichroic layer to acrylic sheets for the efficiency of laser cutting which leaves a polished edge. Intricate shape fabrication with inter-reflecting lighting FX are possible when adhesive welding of acrylic panels are joined for color splashing virtual confetti over interior spaces.
UNIQUE APPLICATIONS OF DICHROLAM FLAT DICHROIC LAMINATIONS:
Levine Children's Hospital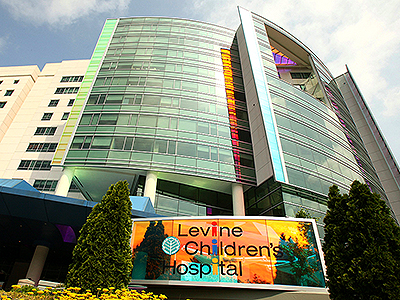 Western Michigan University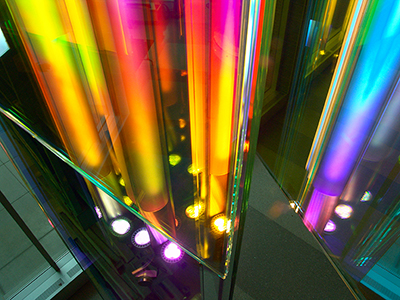 Chabots Donor Wall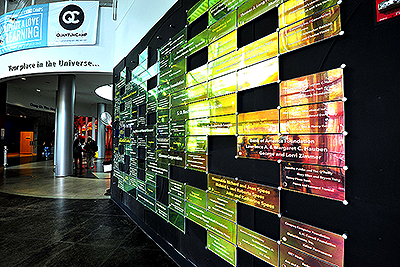 All of our products are custom made and can be applied to a number of substrates. Please feel free to contact us to discuss your specific project needs.