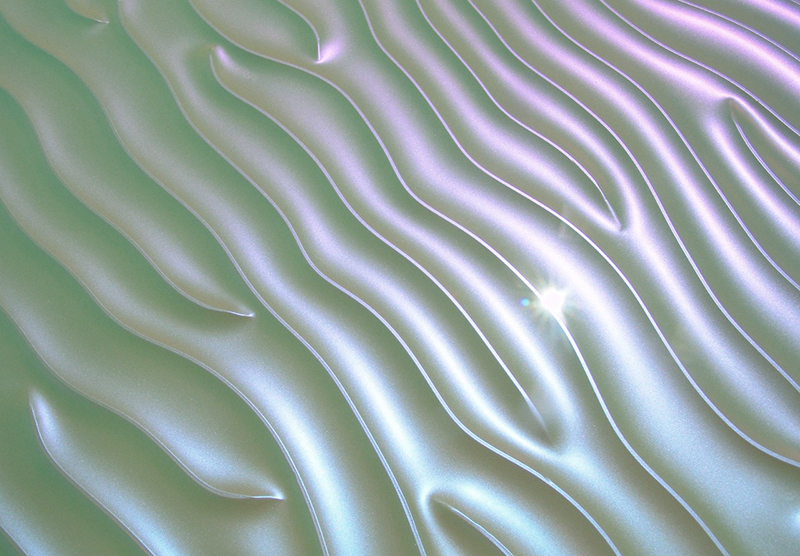 What are Dichrolam® Impressed Textures?
This Dichrolam product is manufactured using our proprietary method, from hand made molds, to create heavy topography in a dichroic layer. This creates what are essentially rainbow color effects within the texture. Unlike cast or kiln formed glass, our molded textures are smooth and graceful without sand imprinted micro-texture. Panels and panes can be created from a number of substrates for use in a wide range of architectural, artistic, and design applications.
Dichroic layers are formed with high adhesion resins against glass or laserable PET substrates using molds in our custom twelve-foot ovens! This results in a composite with variable color effects, and with actual 3D topography on one side.
John Blazy, the creator of our Impressed Textures, drew each mold pattern by hand based on a number of inspirations found in nature. In the case of the Dune Texture, it was based on actual high resolution dune field photos of the planet Mars taken by the Mars Reconnaissance Orbiter spacecraft.
So, in a manner of speaking, the patterns are truly otherworldly and are a great example of just how far outside the box John thinks.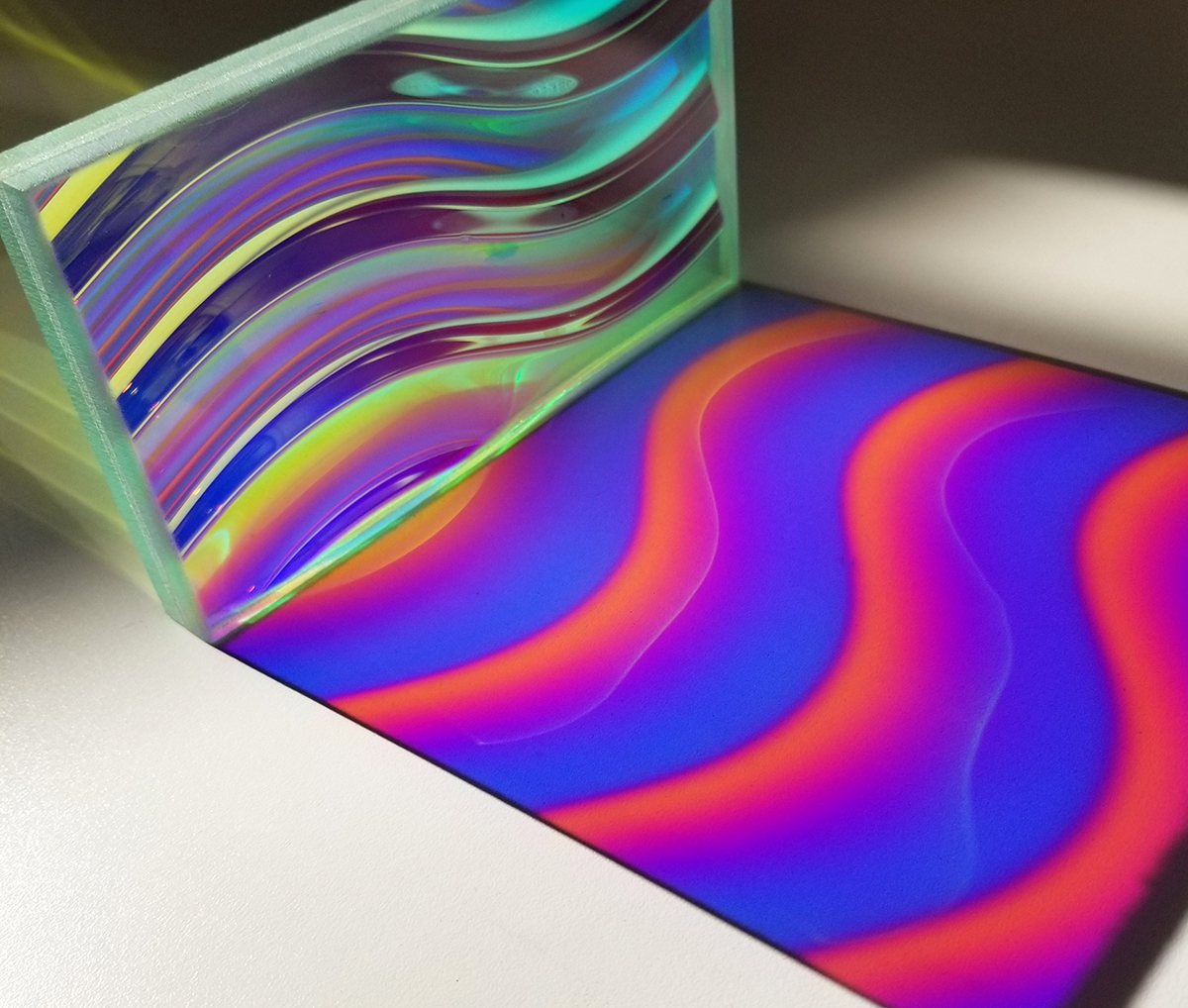 Textures in our main line currently include Long Wave, Short Wave, and Dune.
Our Wave patterns flow like a serene ocean, while our Dune texture is the most exact representation of real dune ripples ever made; a texture where the metallic back coating becomes the sparkling grains of sand within the dune field.
One of our most impressive combinations in the Wave texture line is dichroic with a mirrored backing. In this creation the transmitted colors come through the face, as well as the reflected colors, creating some remarkable opaque surfacing options.
---
WHICH SUBSTRATES WORK BEST?
The applications and substrates with which our Impressed Textures can be used or integrated are virtually limitless. Both single and double paned safety glass are common, as well as PET, acrylic, and IGU fab.
In many of our laminations the dichroic side is protected by a layer of hard-coated AR (Abrasion Resistant) PET film and is suitable as a finished surface. This method allows both sides of the panel to be exposed in translucent applications like restaurant divider walls. Opaque laminations, such as Dune, are supplied with a protective felt backing for adhering to most substrates.
---
Have custom needs?
We can fabricate Impressed Texture panels of a number of patterns, as well as different substrates and color combinations to meet your needs for your interior/exterior design or architectural applications.
We're happy to work with you to plan and quote your large scale custom orders. Contact our manufacturing center to get started.
---
Be sure to visit our Dichro Gallery for examples of the amazing products that have been created with Dichrolam Layered Composites.