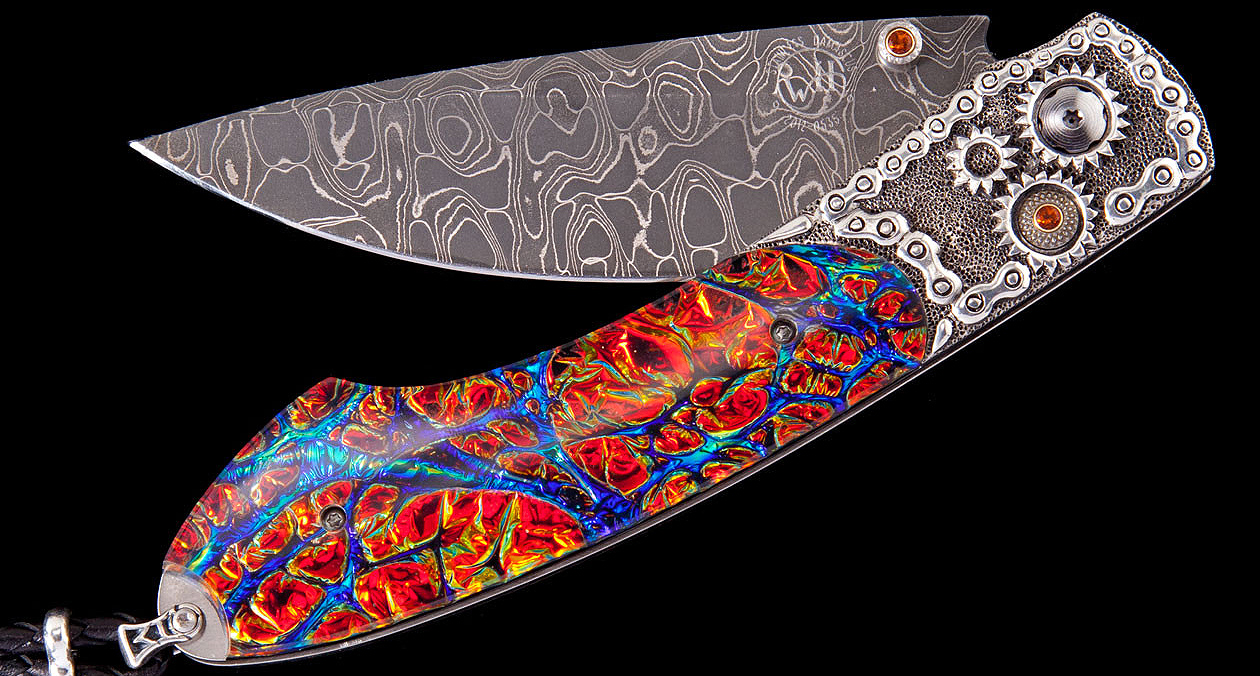 What makes Dichrolam® Burl Textures so amazing?
The dichroic film "optical core" is the most color saturated synthetic material in the world due to the "structural color" of its multilayered makeup. This core filters light wave phases, resulting in breathtaking colors with no dyes or pigments or any kind.
Additionally, literal 3-dimensional topography under the flat resin surface provides visually unique depth and lensing. The patterning of this topography is executed by hand for every single piece, so you will never see two Dichrolam Burl Textures that are the same!
So many opal prospectors have dreamed of mining monstrous veins of Black Fire Opal from Lighting Ridge Australia and extracting it intact to make huge tabletops or unlimited pieces for a line of fine jewelry. How amazing would THAT be?!?!
It is right here, right now, since Dichrolam Burls are optically identical to Opal, but engineered for easy fabrication into real world, high value items.
Our core line of Dichrolam Burls started with Black Sea and Red Burl, and has expanded to include Fire Burl, Titanium Burl, Dragon Burl, Caribbean Burl, and Dragon Burl in Pearl. Have custom needs? We have tested numerous other color combinations, pattern intensities, and lamination methods. We're happy to work with you to plan and quote your large-scale custom orders (min x square feet?). Contact our manufacturing center for more information.
---
Dichrolam Burls are produced in four main stock categories: solid resin stock, "prelam" thin stock, resin receptive heavy stock, and glass stock. Other laminate options are available for custom orders.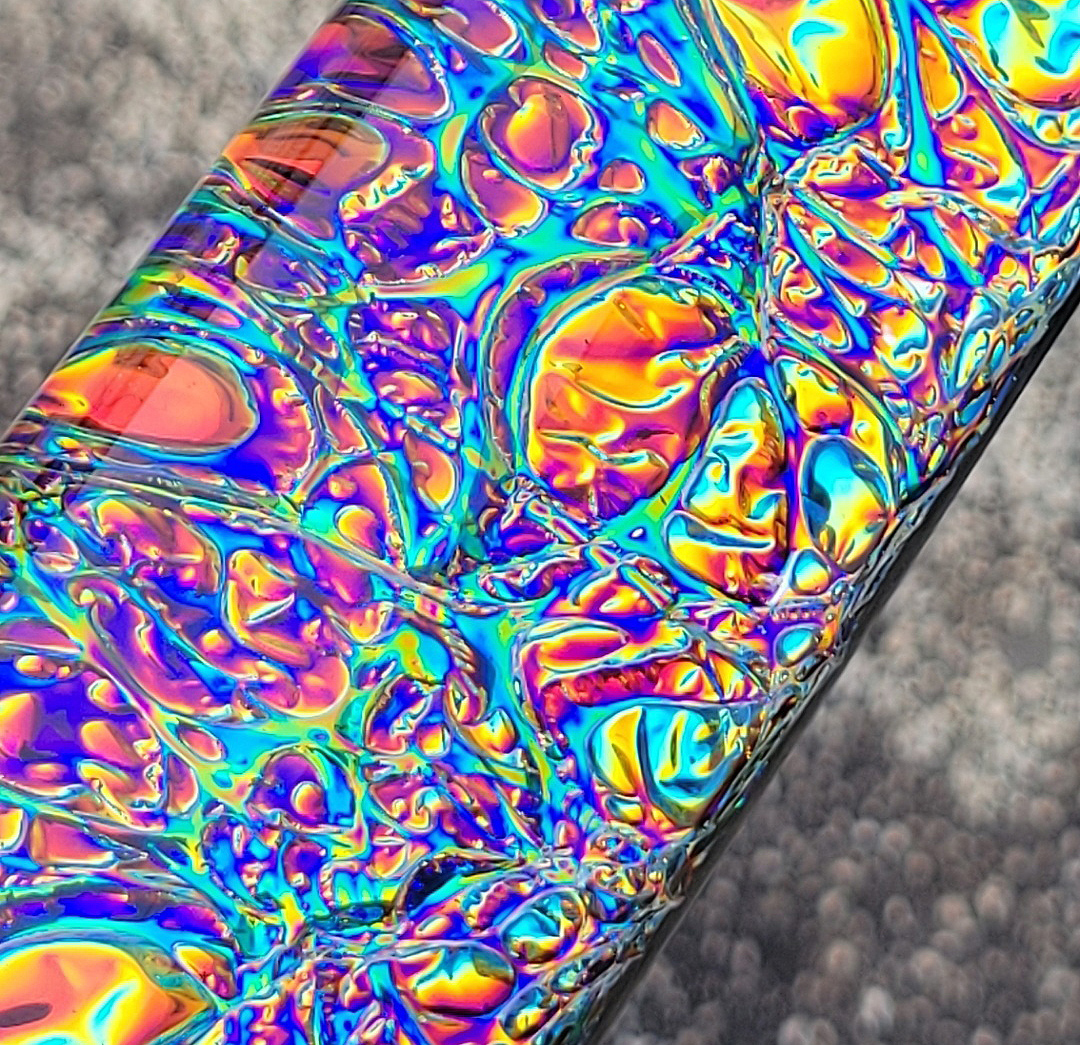 Solid Resin stock - This version features the textured dichroic core in medium to low height topography with very hard resin on both sides of the dichroic core. The top is a clear, high durometer (95+) resin that has proven durability and scratch resistance after buffing. The backing is usually black but can be clear or white.
This version is not produced with a finished surface, and is often surfaced to spec thickness by the creator of the product. This stock is generally made into products like knife handles where it will be shaped, sanded and polished.
Thickness range is .060" to 1" with special resins, but is usually stocked in 3/16" thick.
Glass stock - Any of the burls can be laminated to the back surface of glass with proprietary polymers. Glass stock is great for table tops or architectural surfacing.
All options available from polished edges, holes, tempered and Low Iron glass to mountable backing plates in cement board for fastening to substrates.
Thickness range depends primarily on glass preference.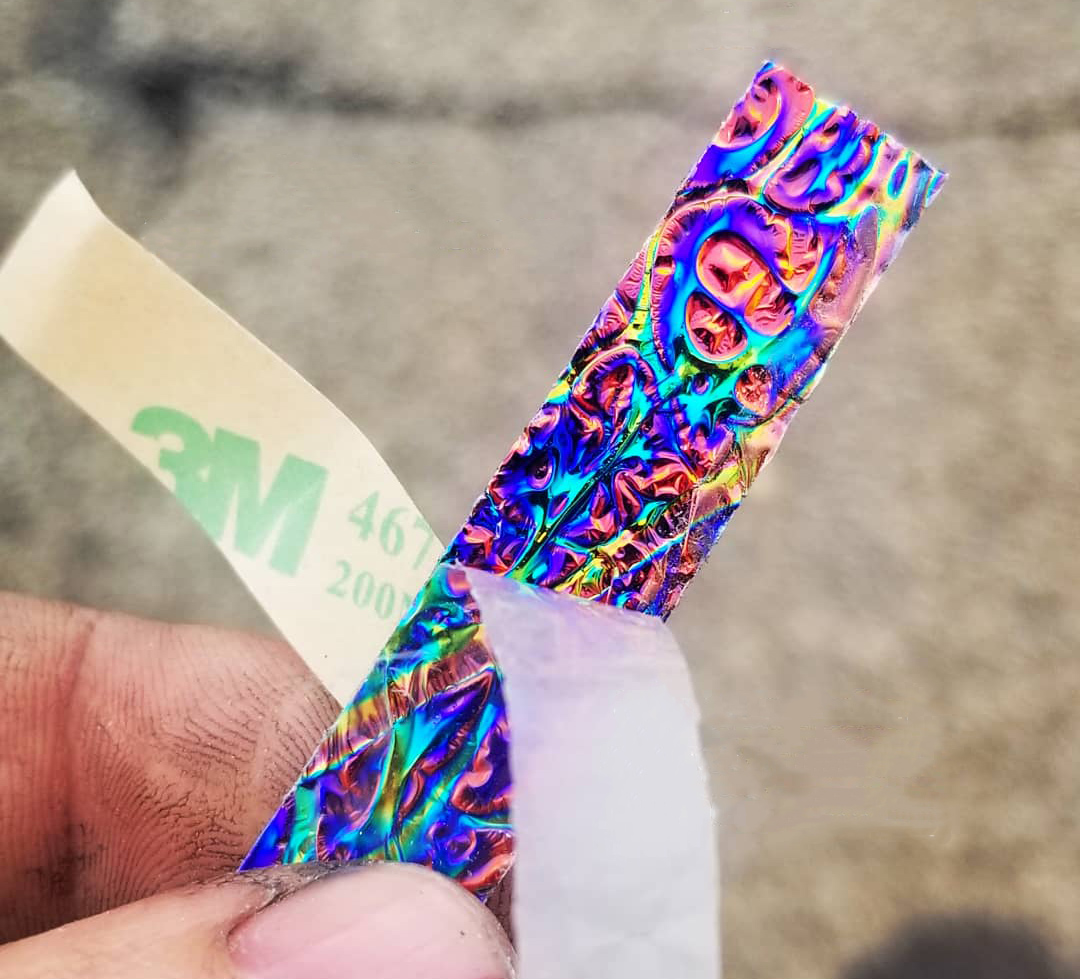 "Prelam" stock - This version is engineered for thin inlay use with tight radius bending capability, primarily for ring and pen makers. But it is also great for general inlay use, inlay use in poured epoxy tabletops and even wall coverings. The textured dichroic core has low height topography for thickness of about .025" with the surface treated for seamless adhesion of customer applied resins. The back of the dichroic core is a flexible elastomer resin with a high adhesion PSA film applied for easy bonding to substrates.
Prelam stock is easily cut with razor to fit into product cavities and is supplied with a masking film on top to keep it clean while handling (this must be peeled off prior to resin fill).
Resin Receptive stock - Similar to thin "Prelam" stock, but this version is Resin Receptive. The burls are heavily textured, without the costly flattening process and without the adhesive backing.
At nearly 1/8" thick, Resin Receptive films are designed primarily for river tables, inlays and resin art where end user applies epoxy directly to the adhesion treated surface. Resin Receptive films can be coated with conventional clear coats to be used for wall covering or any decorative surfacing without epoxy filling.
Thickness range starts at roughly 1/8" thick.
In addition to our four categories of stock Burls, we can also accommodate requests for ARPET stock and other Glass/Acrylic stock on custom orders.
---
Ready to start working with Dichrolam?
We have fabrication guides available for download: (coming soon!)
Be sure to visit our Dichro Gallery for examples of the amazing products that have been created with Dichrolam Burl Textures.